Sun Protection Cream Broad Spectrum SPF 60
Description
Key Ingredients
Education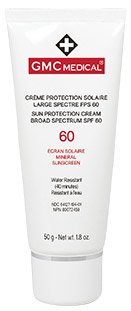 50g - Net wt. 1.8 oz.
INDICATIONS
Formulated with 100% mineral filters Zinc Oxide and Titanium Dioxide, this broad-spectrum UVA-UVB mineral sunscreen helps prevent sunburn. Designed for daily wear, it is suitable for sensitive skin and can be applied alone or under makeup.
Skin type and condition
All skin types and conditions, including sensitive skin.
BENEFITS
Helps prevent sunburn.
Helps prevent premature skin aging.
USE
Apply at the end of the morning skin care routine, after the cream and before the makeup.
WARNING
Avoid contact with eyes. If eye contact occurs, rinse thoroughly with water.
water resistant (40 minutes)
hypoallergenic, paraben-free, fragrance-free, alcohol-free.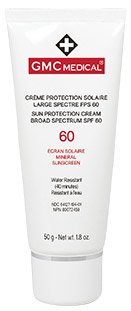 50g - Net wt. 1.8 oz.
Zinc Oxide
Titanium Dioxide
SUN PROTECTION IT'S NOT A CHOICE ANYMORE,
IT'S VITAL!
It is proven that the majority of premature skin aging is caused by sun damage. Therefore, GMC Medical strongly recommends the use of sun protection to preserve skin health and prevent premature skin aging.
MINERAL SUNSCREENS prevent UV rays from hitting the skin by reflecting them.