Acne Gel
Description
Key Ingredients
Education

50 ml - 1.7 fl. oz.
INDICATIONS
The Acne Gel is an acne treatment formulated with 2% Salicylic Acid. The result is a clear and pure skin with a new radiance and refined texture.
BENEFITS
Helps treat acne-prone skin.
Dries out whiteheads.
Clears blackheads.
Prevents blemishes.
USE
Wash hands with a non-medicinal soap.
Clean the skin thoroughly with the appropriate GMC Medical cleanser before applying this product.
For New Users: Apply product to a small area once a day for three days to test if you are sensitive to this product.
Apply morning and/or evening on the affected areas, or as recommended by your doctor.
Start with one application daily, then increase if needed.
If bothersome dryness or peeling occurs, reduce application to once a day or every other day.
WARNING
For external use only.
Do not use if you have very sensitive skin.
When using this product:
Avoid contact with the eyes, lips and mouth; if contact occurs, rinse thoroughly with water.
Using other topical acne drugs at the same time or right after use of this product may increase dryness or irritation of the skin. If this occurs, only one product should be used unless otherwise directed by a doctor.
For more information please refer to the product packaging.
paraben-free, non-comedogenic.

50 ml - 1.7 fl. oz.
Do you know what causes acne?
Acne forms due to an excessive production of sebum, initiated by the sebaceous glands in our skin. Sebaceous hypersecretion leads to an obstruction of pores and the formation of comedones. In the next stage, inflammation occurs, causing redness and pimples to appear on the surface of the skin.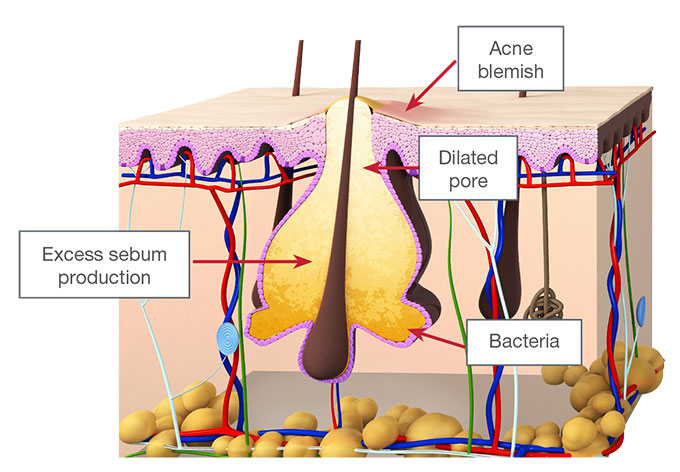 The Solution - ACNE GEL
Salicylic acid is an active ingredient used in acne treatments. It is a safe and effective ingredient to treat mild to moderate acne.
Upon application, it unclogs the pores, reduces blackheads, and dries up whiteheads and blemishes.
It also exfoliates the skin and removes its most superficial layer.